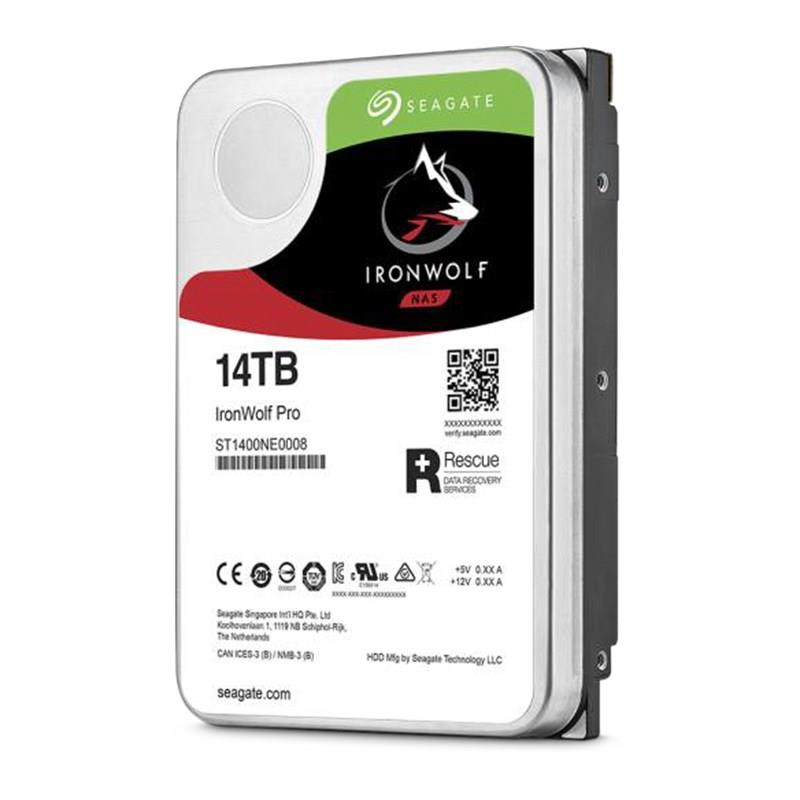 HDD SATA 14TB 7200RPM 6GB/S/256MB ST14000NE0008 SEAGATE
IronWolf Pro is designed for everything business NAS. Get used to tough, ready, and scalable 24×7 performance that can handle multidrive environments across a wide range of capacities.
Optimised for NAS with AgileArray. AgileArray enables dual-plane balancing and RAID optimisation in multi-bay environments, with the most advanced power management possible.
Actively protect your NAS with IronWolf Health Management focusing on prevention, intervention, and recovery.
High performance means no lag time or downtime for users during workload traffic for the NAS. Seagate leads the competition with the highest-performing NAS drive portfolio.
Seagate Rescue Data Recovery. IronWolf Pro comes with extra peace of mind for any mechanical, accidental, or natural disaster. With a 90% success rate of in-house recovery, Seagate has your back with a 2-year included Rescue Data Recovery plan.
Rotational Vibration (RV) sensors. First in its class of drives to include RV sensors to maintain high performance in multi-drive NAS enclosures.
Range of capacities up to 14 TB. More capacity options means more choices that will fit within the budget. Seagate provides a scalable solution for any NAS use-case scenario.
Do more in multi-user environments. IronWolf provides a workload rate of 300 TB/year. Multiple users can confidently upload and download data to the NAS server, knowing IronWolf can handle the workload, whether you are a creative professionalor a small business.
Designed for always on, always accessible 24×7 performance. Access data on your NAS any time, remotely or on site. 1.2 M hours MTBF, 5-year limited warranty represents an improved total cost of ownership (TCO) over desktop drives with reduced maintenance costs.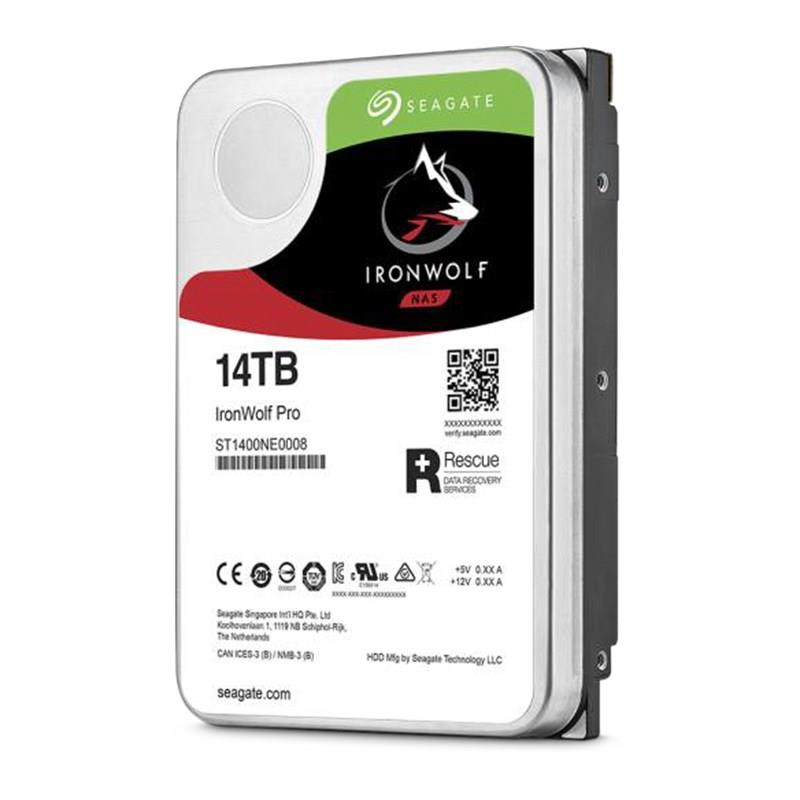 Spetsifikatsioon
CnCode

84717050

HDD Family name

IronWolf Pro

HDD Capacity

14TB

SATA

Yes

Buffer memory size

256MB

Rotation speed

7200rpm

Bytes per Sector

512Bytes/sector

Discs/Heads

8/16

Form Factor

3,5"

Width

101.85mm

Height

26.11mm

Depth

146.99mm

Pallet quantity

800

Shipping box quantity

1

Shipping Box Width

10.5cm

Shipping Box Depth

15cm

Shipping Box Height

2.7cm

Shipping Box Weight

0.68kg

Unit Brutto Volume

0.0004253cubm

Unit Net Weight

0.68kg

Unit Gross Weight

0.68kg